Vegami
Vegami is your protein-packed vegan sandwich rock star. No lab acrobatics, no fillers. Just simple, honest, plant-based ingredients.
Not fake Meat. Real Plants.
We keep it real with Vegami, packing it with vibrant veggies and greens for bold and authentic flavors.
no sugar. no nuts. no saturated fat.
Vegami contains 15g of protein per 2 oz serving/100 calories or 75g of protein per one roll/10 oz.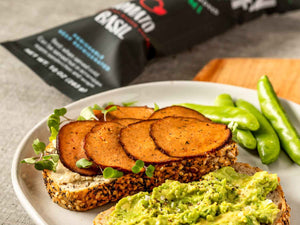 Does it taste like the "real" thing?
Well, we'll be honest with you — Vegami is not trying to be an exact replica of meat-based salami. 
No imitation animal fats here, no fillers or junk! Instead, we packed it with wheat protein, delicious veggies, greens, and mushrooms.
What you'll taste is a savory, smoky flavor — naturally smoked to perfection. It's a little bit chewy, with the perfect blend of spices that's not too hot, not too mild, just the right notes to excite your palate.
Wow! Green Wolf Vegami is amazing. It's like a taste explosion... It might sound cliche, but every bite just stayed unbelievable.
Frazer, vegan since 1996

I take my ethics, nutrition and fitness very seriously. And Green Wolf Vegan Salami fits my lifestyle when I'm enjoying it as a quick snack or on a sandwich.
Dew, vegan since 2015

Eating the wonderful Green Wolf vegan salami reminds me of the time I used to backpack with my dad. We used to pack a roll of Gallo dried salami and I would just chew it off the roll. This meat brings back those memories.
Clyde, vegan since 1992

Green Wolf Vegami is delicious! The flavor, texture and seasoning are perfect. We've tried all their varieties, and whether alone, with bread, or part of a spread - they're amazing!
Rachel, vegan since 2016
I'm thrilled to have discovered Green Wolf Vegami. As an active vegan, I sometimes struggle to find easy on-the-go foods that are delicious and that help meet my protein requirements for the day — Green Wolf products meet and exceed my expectations in every way…and my kids love them, too!
Vega, vegan since 2017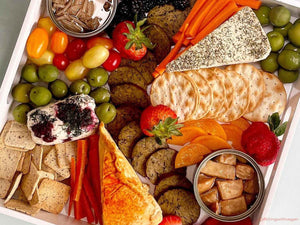 How do I eat it?
Enjoy Vegami any way you like! It's perfect for sandwiches, wraps, charcuterie boards, pizza, pasta, soups or simply snacking alone. Slice it, dice it, or get creative with your favorite recipes. The possibilities are endless!
Discover mouthwatering recipes and culinary inspiration on our Instagram. Get cooking and unleash your inner chef!
Go to Instagram
What is it made of?
Vegami is a blend of simple ingredients:
1/3 vibrant veggies and greens
1/3 vital wheat gluten for that perfect texture
1/3 carefully balanced combination of water, oil, and spices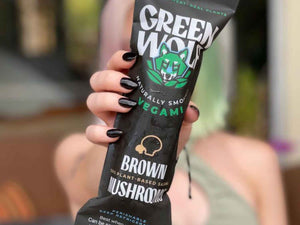 HOW LONG CAN I KEEP IT?
Once you receive your Vegami, simply store it in your refrigerator. When refrigerated, Vegan salami is good for up to 30 days. If you prefer to stock up, Vegami can be stored in the freezer for up to 18 months without compromising taste or quality.
At Green Wolf Foods, we prioritize the use of natural preservation methods. While we don't add artificial preservatives, the combination of real smoke and salt ensures that each slice retains its deliciousness and longevity.
Naturally Smoked to Perfection
Applewood-smoked for 6 to 8 hours, our Vegami rolls deliver an irresistible smoky flavor that will make you howl with delight.
Clean and Wholesome
Our Vegan Salami is crafted with simple, clean ingredients you know and trust. No artificial flavors, colorings, additives, or added preservatives.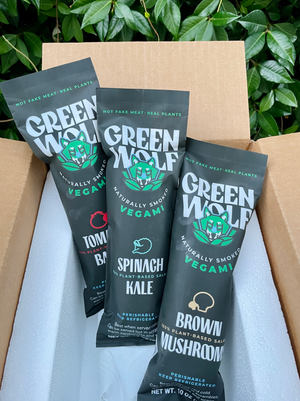 Save on Shipping, Savor the Freshness
We get it, the cost of shipping can be a challenge. At Green Wolf Foods, we prioritize the freshness of your Vegami salami, which is why we ship it in insulated boxes to ensure it arrives in perfect condition.
But here's the good news: when you order more, the shipping cost per piece decreases, making it a win-win for your taste buds and your wallet. Plus, once you receive your Vegami, simply pop some in the freezer, extending its enjoyment for weeks to come.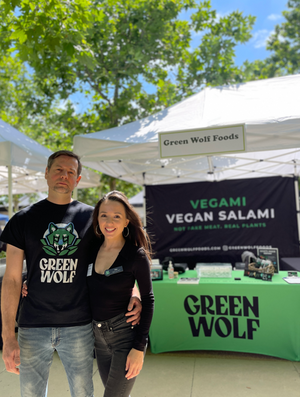 Made by Vegans, for Vegans!
At Green Wolf Foods, we're a family of passionate vegans on a mission to bring you the best in plant-based deliciousness.
Vegami is our heart and soul — a flavorful masterpiece crafted with love. Join our Green Wolf pack and savor the dedication of a brand that celebrates the power of plant-based living.
Together, let's howl for a healthier, more compassionate world.
FAQ: Your Questions Answered
What are the Ingredients?

Here are the ingredient lists for our three flavors: 

Tomato Basil Vegami

Ingredients: Organic Canned Diced Tomatoes (Tomatoes, Tomato Juice, Salt, Calcium Chloride, Citric Acid), Vital Wheat Gluten, Water, Avocado Oil, Garlic Powder, Sea Salt, Nutritional yeast, Beetroot Powder, Basil, White Pepper, Paprika.

Contains: Wheat

Brown Mushrooms Vegami

Ingredients: Brown Mushrooms, Vital Wheat Gluten, Water, Soy Sauce (Water, Soybeans, Wheat, Salt), Avocado Oil, Garlic Powder, Nutritional Yeast, Beetroot Powder, Shitake Mushroom Powder, Sea Salt, Black Pepper, Paprika, Red Pepper, Coriander Seed, Dill seed, Onion Powder.

Contains: Wheat, Soy (from soy sauce) 

Spinach Kale Vegami

Ingredients: Vital Wheat Gluten, Water, Spinach, Kale, Soy Sauce (Water, Soybeans, Wheat, Salt), Avocado Oil, Salt, Garlic Powder, Nutritional Yeast, Beetroot Powder, White pepper, Onion Powder.

Contains: Wheat, Soy (from soy sauce) 
What are the nutrition facts?

You can find detailed nutritional information for each product on their respective product pages. For your convenience, here's a summary of the nutritional information for our Vegami salami flavors:
Does Vegami need to be refrigerated?

Keep your Vegami cool and cozy in the refrigerator until you're ready to unleash its mouthwatering deliciousness. Our products are lovingly preserved with salt and a natural smoking process, ensuring their fresh and vibrant flavors.

While Vegami may be adventure-ready, it's best to store it in the refrigerator when you're not indulging. However, if you're hitting the great outdoors, Vegami can survive a day or two in its original packaging, perfect for your backpacking or camping adventures.

Remember, the fridge is Vegami's happy place, so keep it chilled until you're ready to savor its delightful taste. Check the packaging for any specific storage guidelines and let the Vegami flavor party begin!
Where do you ship your products?

At the moment, we ship our delicious products within the contiguous United States.

Unfortunately, we don't offer international shipping just yet. But hey, we're always working on expanding our reach! Stay tuned for updates.
How soon can I get my order?

We strive to process and ship orders within 1 to 5 business days (excluding weekends and holidays) after receiving your order confirmation.

Once shipped, you can expect your order to arrive within 1-2 business days. We work diligently to ensure your order reaches you as quickly as possible.

For more details on our shipping process, you can check our shipping policy on our website.
How much does shipping cost?

When you're ready to check out, the shipping charges are calculated based on the size of your order and the need for insulated containers and ice packs to keep your Vegami fresh. 

The cool part? As you add more Vegami to your cart, the shipping cost per piece decreases. So not only do you get more deliciousness, but you also save some bucks on shipping. And if you happen to have extra Vegami, just pop it in the freezer for later indulgence.

For all the nitty-gritty details, make sure to check out our shipping policy.